BBC's "Dangerous Passions" Filmed in Kettlebaston
When I was first contacted by the BBC in October 2003 (via the Y2K website, which they had found during an internet search), the reason for their interest wasn't immediately apparent. However, it eventually came to light that a London evacuee called Ken Fletcher had been billeted at Kettlebaston Rectory in 1943. He was currently in the process of emigrating to Australia and a portion of the proposed programme was to revolve around him and his wartime experiences within the village.
Months of protracted negotiations followed, and filming finally went ahead in December 2003 - sadly in heavy mist (which ruined the carefully planned shooting schedule)!
Ken had met his childhood sweetheart at Preston St Mary school, which they both attended, and he had recalled the long walk over unmade tracks and footpaths to get there. Arrangements were therefore made for filming in Preston too, and Georgie Mason (pictured right in the doorway), Cally & Amie Haslen, and Hamish Jenkins very kindly agreed to take part in a period reconstruction. They all excelled themselves, and should be congratulated on their remarkably professional and 'cool' approach to the whole affair.
I'm also delighted to report that the BBC donated £200 to the communities for their assistance, and £100 each has now been forwarded to Kettlebaston church and Preston St Mary Village Hall Committee.
The programme is due to air in Spring 2004 - set your videos!
Andrew Gourlay, Webmaster
The EDP artricle that inspired the filming is provided below, as are some photos kindly provided by Stephen Maud - the programme's Assistant Producer: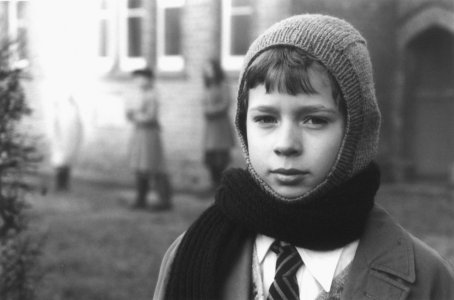 It was love at first kiss when cheeky schoolboy Ken Fletcher planted a smacker on Gladys Pinnington's lips in the autumn of 1943.
From then on they were childhood sweethearts who drifted apart, and once he even feared his true love was dead.
They even married other partners and had eight children between them.
But, in a remarkable romance stretching more than half a century and half way across the globe, 72-year-old Ken, from Sheringham, has finally tracked down his former fiancee in Australia and is emigrating down under to be with her.
Fifty three years after they last saw each other, the couple will finally tie the knot following her divorce from a former naval officer 30-years-ago and the dying wish of Ken's wife that he should marry his first love.
Yesterday, the couple told the EDP of their delight at being united after so long."At one point, in a case of mistaken identity, I was told she had been fatally injured in an accident, but I eventually found her in Adelaide and we started where we left off," said Ken. "Without a doubt we have wasted our lives and we want to make up for it now," said Gladys, speaking from Australia.
He was 12, from Chiswick, and Gladys was 11, from Edmonton, London, when the second world war threw them together as young evacuees at a remote rural school in Suffolk. "I was walking home from school with a group of friends and he stood in front of me and planted a kiss on my lips," she said.
Love blossomed and, when the war finished, Gladys trained as a secretary at a college in Tottenham, while Ken joined the navy.
The young lovers kept in contact by letter, and when they were reunited in 1949, the pair got engaged. But a year later the couple drifted apart because of the young seaman's trips abroad.
The pair went their separate ways. Ken married in 1951 and had three children with his wife Grace.
Gladys tied the knot with John Birch in 1956 and had five boys. In 1970, Gladys and her husband left Britain for a new life in Australia. But the childhood sweethearts never forgot each other."It was a year after we parted I started looking for her. I knew I had made a big mistake and she seemed to have disappeared," said Ken."It was heartbreaking when you are trying to find someone. I was looking in Britain and Europe and she was in Australia all along."
Before Grace Fletcher died in 1996, she urged her husband to continue searching for his childhood sweetheart.
Eventually, he tracked down his former fiancee two months ago. He immediately flew out to Australia and rekindled their love."When he got off the plane, I could not believe it. The love was still there - it was like a spark that had turned into a flame," said Gladys."We were at a party and Ken got up in front of all these people he did not know and proposed. My heart just flipped."
The couple are getting married on November 16, in Veale Gardens, Adelaide. Ken is selling everything he owns to start his new life in Australia as soon as possible
With grateful thanks to the Eastern Daily Press (EDP), who published this story on 31st July 2003