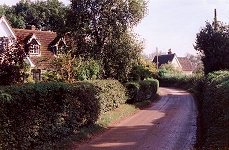 Once on the brink of extinction, the village has now been lovingly restored and went on to win Babergh's Best Kept Village, and was runner up in the Suffolk Community Council Best Kept Village Competition in 1989. It contains a very high proportion of listed properties, (over 40%, mostly from the 17th. century) and is now protected as a conservation area.
Also preserved, (as a County Wildlife Site) is the one hectare Kettlebaston Wood, which is unfortunately only half the required size to be included within English Nature's Inventory of Ancient Woodland.

The village sign, (bearing two crossed sceptres topped with doves), was erected to mark the coronation of George VI. It also commemorates that in 1445 Henry VI granted the Manor of Kettlebaston to William de la Pole (Marquess of Suffolk) along with the service of carrying a golden sceptre at the coronation of all the future Kings of England, and an ivory sceptre to carry at the coronation of Margaret of Anjou, and all future Queens.
The Grade 1 listed parish church of St. Mary the Virgin has Norman origins, and retains many period features.
Whilst the church was undergoing some restoration work c.1864, four medieval alabasters were found embedded in the chancel wall. They were donated to the British Museum in 1883, (which is where the originals still reside), and are regarded as some of the finest examples of medieval carving that have survived - thought to be from the London School of Carvers, c.1350.
The church also features one of Suffolk's finest modern rood screens. It was designed by Father Ernest Geldart in 1890, and decorated by Patrick Osborne in 1949.
Kettlebaston is part of a benefice containing Monks Eleigh with Chelsworth, and Brent Eleigh with Milden.
The ancient churchyard is a haven for wildlife, and is now managed as a conservation area under the guidelines of the Suffolk Wildlife Trust.
Two versions of Roy Tricker's excellent Church Guide are currently available for download. Please click one of the links to begin the transfer:
For more information about the village and its past, the church and its history, or the community in general, please visit the Kettlebaston Millennium Project via the 'Y2K Home' button (a rich source of written and photographic data for genealogists, historians or anyone interested in the village's past).
Please note that text links within this site usually open into new pages.