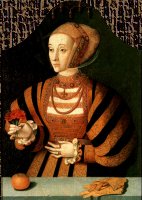 Anne of Cleves
Lady of Kettlebaston Manor

BORN: 1515
MARRIED: 6 JANUARY 1540
DIVORCED: JULY 1540
DIED: 16 JULY 1557
Henry VIII remained single for over two years after Jane Seymour's death, (giving birth to Edward), possibly giving some credence to the though that he genuinely mourned for her. However, it does seem that someone, probably Thomas Cromwell, began making inquiries shortly after Jane's death about a possible foreign bride for Henry.
Henry's first marriage had been a foreign alliance of sorts, although it is certain that they two were truly in love for some time. His next two brides were love matches and Henry could have had little or no monetary or political gain from them.
But the events of the split from Rome left England isolated, and probably vulnerable. It was these circumstances that led Henry and his ministers, (particularly Thomas Cromwell, the Kings First Minister, who was very keen to ally England with the Schmalkaldic League), to look at the possibility of a bride to secure an alliance. Henry did also want to be sure he was getting a desirable bride, so he had agents in foreign courts report to him on the appearance and other qualities of various candidates. He also sent painters to bring him images of these women.
Hans Holbein, probably the most famous of the Tudor court painters, was sent to the court of the Duke of Cleves, who had two sisters: Amelia and Anne. When Holbein went in 1539, Cleves was seen as an important potential ally in the event France and the Holy Roman Empire (who had someone made a truce in their long history of conflict) decided to move against the countries who had thrown off the Papal authority. England then sought alliances with countries who had been supporting the reformation of the church. Several of the Duchys and principalities along the Rhine were Lutheran. Holbein painted the sisters of the Duke of Cleves and Henry decided to have a contract drawn up for his marriage to Anne.
Although the King of France and the Emperor had gone back to their usual state of animosity, Henry proceeded with the match. The marriage took place on January 6, 1540. By then, Henry was already looking for ways to get out of the marriage.
Anne was ill-suited for life at the English court. Her upbringing in Cleves had concentrated on domestic skills and not the music and literature so popular at Henry's court. And, most famously, Henry did not find his new bride the least bit attractive, (despite Cromwell's prior reassurance), and is said to have called her a 'Flanders Mare'. In addition to his personal feelings for wanting to end the marriage, there were now political ones as well. Tension between the Duke of Cleves and the Empire was increasing towards war and Henry had no desire to become involved. Last but not least, at some point, Henry had become attracted to young Kathryn Howard.
Anne was probably smart enough to know that she would only be making trouble for herself if she raised any obstacles to Henry's attempts to annul the marriage. She testified that the match had not been consummated and that her previous engagement to the son of the Duke of Lorraine had not been properly broken.
After the marriage had been dissolved, Anne accepted the honorary title as the 'King's Sister'. She was given property, including Hever Castle, formerly the home of Anne Boleyn.
Anne lived away from court quietly in the countryside until 1557, and attended the coronation of her former step-daughter, Mary I.