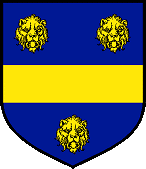 William de la Pole
4th Earl and 1st Duke of Suffolk, (1396–1450).
Born: 16 OCT 1396, Cotton, Suffolk
Baptized: Cotton, Suffolk
Acceded: 2 JUN 1448
Died: 2 MAY 1450, Dover
Interred: Carthusian Priory, Hull

Sir William de la Pole, (4th Earl, Marquess, and 1st Duke of Suffolk), was the first non-royal person to be created a Duke - by King Henry VI in 1488. His wife was the granddaughter of Geoffrey Chaucer.
From c.1435, Henry fell under the dominance of a faction headed first by Henry Beaufort and later by William de la Pole, both of whom opposed continuing the war in France. Suffolk played an active role in the later stages of the Hundred Years War, and for a time held the chief command. In 1445 he negotiated a marriage for Henry with Margaret of Anjou, and rose to a position of great political authority, (reaching the peak of his power in 1448 when he received his Dukedom). This marriage was at first favorably received in England, but when Henry, (now under the influence of his wife), surrendered Anjou and Maine to Charles VII, Suffolk and the queen lost their popularity. His persistent efforts to gain peace with France enabled his enemies to accuse him of treason, especially after disastrous losses in Normandy. His long record of service, his eloquent appeal to Parliament, and even the favor of the king could not save him from impeachment. When setting out for a five-year exile he was abducted from his ship and beheaded in an open boat off Dover, (his head subsequently being thrown on the beach).
The rebellion of Jack Cade, which broke out after Suffolk's death, was but one of many riots and uprisings indicating popular dissatisfaction with the government. The faction headed by Queen Margaret and Edmund Beaufort, 2nd Duke of Somerset, which dominated the king after Suffolk's death, was opposed by Richard, Duke of York, the most powerful noble in the kingdom and heir presumptive to the throne. The struggle between these two factions developed into the dynastic battle between the Lancasters and the Yorks known as the Wars of the Roses.
William de la Pole features strongly in William Shakepeare's "King Henry VI" as "Suffolk".