From his early teens Peter lived by Poole Harbour and it proved to have a deep influence. It was easy to escape from school and sit watching the shore-line; holidays and weekends were often spent bird watching and exploring its inlets and unspoilt reaches, where sea and marsh intermingle with woodland and meadow.
He started sketching at an early age, pursuing this interest more seriously at Bournemouth College of Art and later, Middlesex. He studied all aspects of art, and was deeply attracted to the abstract. He then went on to teach art students for many years.
As demand for his original work grew, he chose to pursue painting and printmaking professionally. Since then his hand-coloured dry-points, etchings, and original water-colours have been avidly collected; he has had numerous one-man shows. He also lectures, and writes extensively - for 'The Artist' magazine, (among others), and several books for Collins; "Learn to Paint Birds in Watercolour" was launched at the Tryon Gallery in Cork Street in 1989, followed this with three further books "Learn to Draw Wildlife", "Learn to Draw Birds" and "Learn to Draw Farm Animals". His illustration work for books and cards has exposed him to an even wider audience.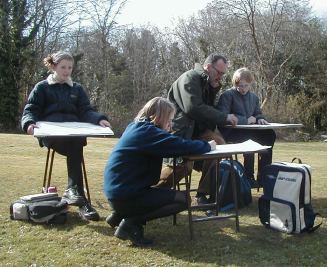 In his paintings he seeks out the effects of light and weather on the landscape and its birds, and expresses this through the discipline and yet freedom of water-colour. Robert Gillmor has described his technique as 'magical'. Few can grasp the intense labour and concentration that has gone into these apparently effortless expressions about the natural world. His work is enlivened by keen observation, noted in his sketchbook, of bird plumage and behaviour in the field. He paints with understanding, wit and feeling.
He was invited in the Spring of 1992, by the Artists for Nature Foundation, to join their group of artists to record the Briebrza Wetlands to publicise the need for their conservation. He was invited again to Extramadura in Spain in 1994. Both trips resulted in sumptuous books which contain examples of his work. His talent has gained deserved recognition as a prize winner in the European Bird Art Competition.
He has been elected to the Society of Wildlife Artists, and the International Museum of Wildlife Art has several pieces of his work in its collection.